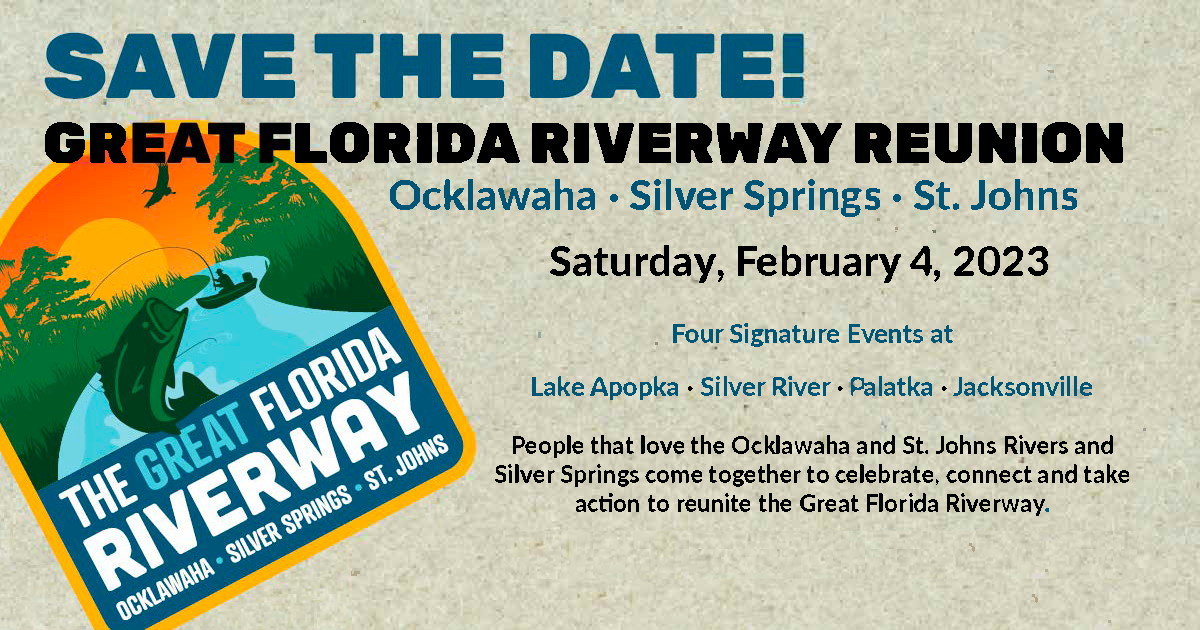 What is the Great Florida Riverway Reunion? 
It's a day for people that love the Ocklawaha and St. Johns Rivers and Silver Springs to come together to celebrate, connect, and take action to reunite the Great Florida Riverway by breaching the Rodman/Kirkpatrick Dam. This event consists of a series of reunions from the headwaters of the Ocklawaha River at Lake Apopka to the confluence of the Ocklawaha and Silver Rivers near Silver Springs, to Welaka where the Ocklawaha and St. Johns unite, all the way to Jacksonville where the Great Florida Riverway meets the Atlantic. 
How can I participate?
Signature events are scheduled at Lake Apopka's Magnolia Park, the Ocala Boat Club on the Ocklawaha, Welaka Lodge on the St. Johns, and a Jacksonville location (to be announced). In addition, anyone can plan their own personal Reunion, from a dock party to a picnic at the park or bonfire on the river. The Reunion team provides you with a kit to build your very own event.
Kits include a digital invitation template, dock and yard signs, a river playlist, movie links, party suggestions, advocate sign-up sheets, and social media tools to promote and broadcast your event. Additionally, we will provide talking points and educational materials to share with your friends, neighbors, and colleagues. 
Through social media, Reunion goers can connect all day and into the evening through shared posts and Facebook live events. Florida's leaders need to know that so many people care about making these rivers healthier and more sustainable. Our lives, community, economy — and our water and wildlife — depend on a reunited Great Florida Riverway.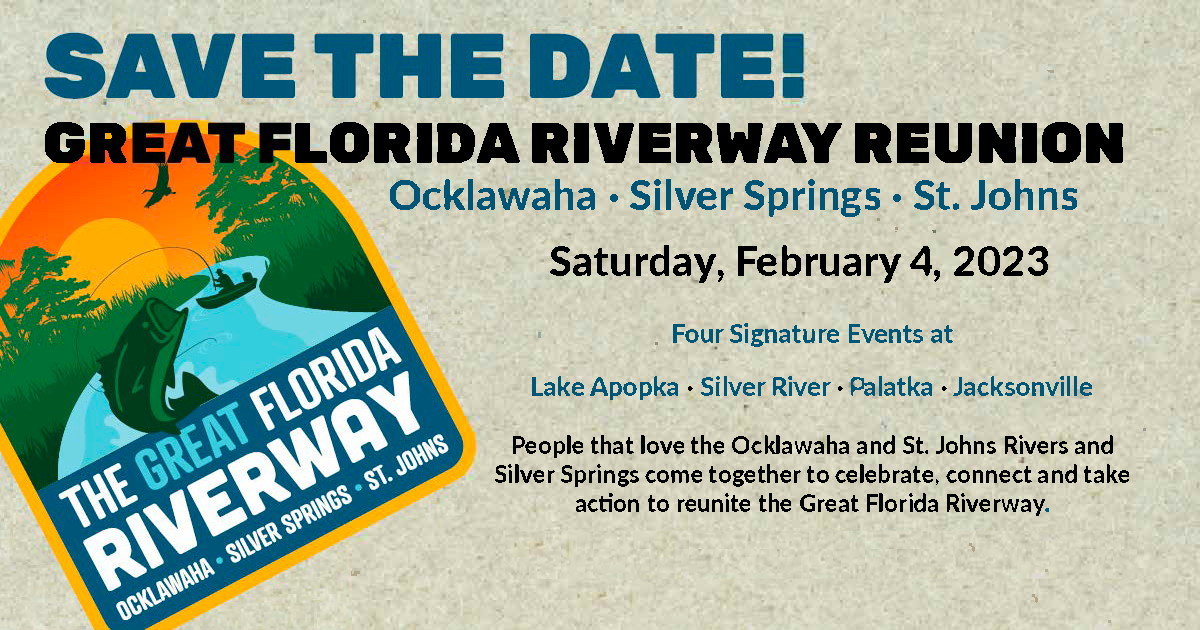 [Cypress Seedling at Drawdown by Doug Eng.]
The Big Date:  Saturday, February 4
Please check individual events for specific details, locations, and times.
Just one month before the 2023 regular legislative session opens in Tallahassee, the Reunion is a way to make our voices heard at a very critical time of year. 
Great Florida Riverway Reunion Event Locations
Lake Apopka: Magnolia Park Pavilion and Grounds 
FREE Picnic in the Park – 1:00 to 5:00 p.m.
Children's art activities, yard games, music, and more. Bring your own picnic, beverages and desserts will be provided.
Hosted by: Florida Native Plant Society, Seminole and Orange Audubon, Friends of Lake Apopka  
Facebook event link coming soon.
RSVP
Silver Springs/Ocala: Ocala Boat Club and Ray's Wayside Park 
FREE Family Fun Day – 1:00 to 5:00 p.m.
Children's art activities, yard games, face painting, music, food trucks, and more. Pontoon boat rides, first come first served – $10 for adults, $5 for children (Captains Karen Chadwick and Erika Ritter). Canoe and kayak arrangements are currently being planned.  
Evening Celebration, Ticketed Event – 5:00 – 8:00 p.m.
Live music, craft beer tasting, Taste of the South Dinner, special program, dancing, and more.
Hosted by: Save the Manatee, Defenders of Wildlife, Florida Defenders of the Environment 
Facebook event link coming soon.
RSVP
Palatka/Welaka: Welaka Lodge 
Hosted by: Florida Wildlife Federation, St. Johns Riverkeeper 
Facebook event link coming soon.
RSVP
Jacksonville: Details coming soon 
Hosted by: St. Johns Riverkeeper 
Facebook event link coming soon.
RSVP
Want to get involved? 
To volunteer to help with a signature event or order your own party packet, email info@FreetheOcklawaha.com.